Formula 1 Las Vegas
September 14, 2023
Formula 1 in Las Vegas
High-Stakes Speed: The Thrill of Formula 1 Las Vegas Racing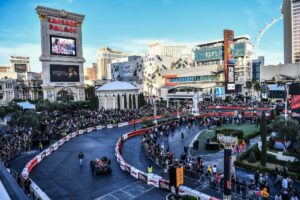 Source: Bloomberg
In the realm of motorsports, Formula 1 unquestionably reigns supreme as the pinnacle of racing excellence. The sport stands apart due to the powerful engines, thrilling overtakes, and intense track maneuvers. Fans eagerly await each Grand Prix, and we explore Formula 1, revealing the excitement, precision, and global spectacle that captivates millions.
F1 Las Vegas
The Starting Line
Source: F1 Las Vegas
Formula 1 (F1), born in 1950, evolved from early 20th-century auto racing into a premier global motorsport defined by cutting-edge technology and legendary drivers. It commenced with Giuseppe Farina's triumph, subsequently, it saw the emergence of legends such as Ascari, Fangio, and Moss. Technological innovations, from turbocharged engines to aerodynamics, characterized the 1960s-1970s and expanded the sport worldwide. The modern era brought legends like Schumacher, Hamilton, and Vettel, emphasizing safety and sustainability while maintaining F1's global appeal. Today, F1 continues to captivate audiences worldwide with thrilling races and constant innovation, solidifying its place as a pinnacle of motorsport.
F1 Vegas
Burning Rubber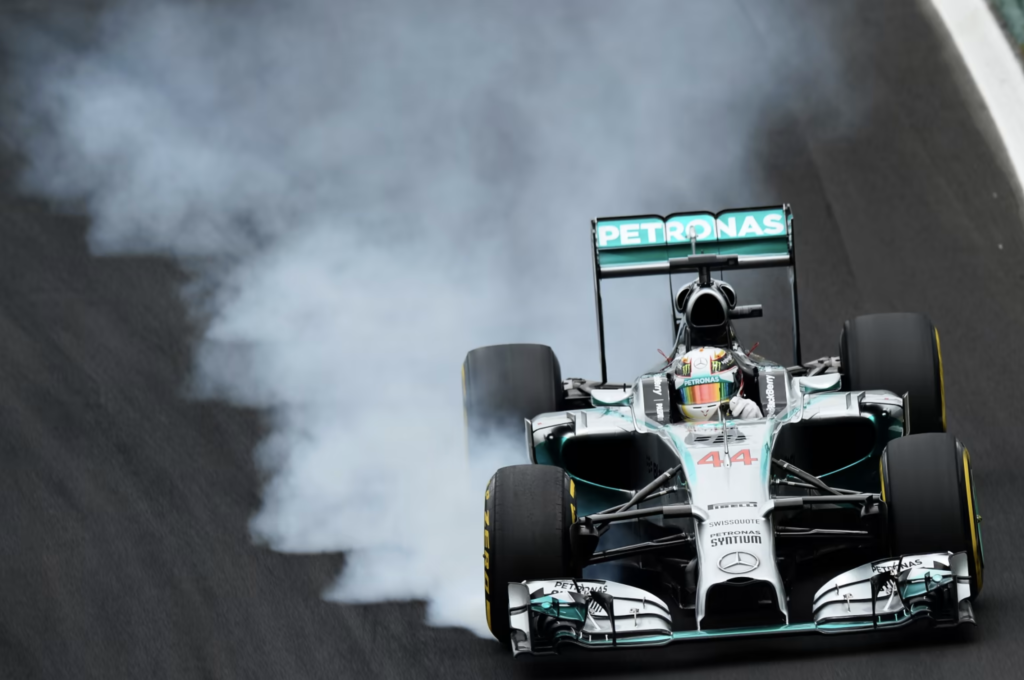 Source: Driver 61
Formula 1 is a treasure trove of fascinating facts that add to its allure. For instance, an F1 car's tires can reach temperatures exceeding 100 degrees Celsius during a race. Furthermore, an F1 car can accelerate from 0 to 100 mph and decelerate back to 0 in just 4 seconds, demonstrating exceptional speed and braking. The pit crew performs lightning-fast tire changes, taking less than 2 seconds per tire, showcasing precision and teamwork. Additionally, an F1 steering wheel is highly complex, with over 20 buttons and switches, enabling real-time control for drivers. Lastly, F1 drivers can lose up to 3 kg of body weight in sweat due to the intense forces experienced during a race, highlighting the sport's significant physical demands.
F1 Las Vegas 2023
Source: F1 Las Vegas
The upcoming F1 race in Las Vegas is generating immense anticipation in the motorsport world. Positioned against the iconic backdrop of the Las Vegas Strip, this event promises to be a spectacle like no other. Furthermore, the circuit, meticulously designed to incorporate the city's famous landmarks, will challenge drivers with a blend of high-speed straights and tight corners, ensuring thrilling action from start to finish. Given the intensifying championship battles, all eyes are on this race to see if it will play a pivotal role in determining the season's outcome.
As fans and teams prepare for the glamour and excitement of Las Vegas, the city is poised to host an unforgettable F1 experience, seamlessly blending the thrill of racing with the glitz and entertainment for which it is renowned. For a more in-depth look at the Las Vegas race's events, you can view them HERE.
While Formula 1 provides an exhilarating experience on the track, the excitement doesn't end there. Las Vegas, known for its vibrant nightlife, offers the perfect way to continue the adrenaline rush after the race. La Epic Club Crawls Las Vegas is the number 1 ranked Las Vegas party bus tour, and provides epic tours of the best clubs in Vegas! Dive into the Vegas nightlife scene with their group club crawls, pool crawls, and  Fremont Street Bar Crawls. For those seeking a touch of VIP treatment, indulge in their exclusive private packages and VIP bottle service options.
The post Formula 1 Las Vegas appeared first on Las Vegas.