What are the top 5 Las Vegas nightclubs in 2022?
June 22, 2022
Zouk, XS, Omnia, Hakkasan and Drai's lead the list of nightclubs currently operating in Las Vegas.
There are two kinds of experiences most common in Las Vegas nightclubs.
You choose the wrong way to go to a nightclub: You wait in line on your feet forever and watch countless people get whisked away by the velvet ropes while you grow older with every passing second. The drinks you had at your hotel room wear off, your feet hurt, and you legit have a hangover by the time you enter the club.
or
What's the right way to get into a Vegas club?
Vegas Party VIP is a group of professional hosts that deliver you to the best nightclub experiences in a matter of minutes. You pick the club you want and Vegas Party VIP sets everything up in advance tailored specifically to your desires. The velvet ropes part as you and your crew pass through, escorted right to your party. No hassles. No politics. No waiting.
Which Club is The Best Nightclub In Vegas in 2022?
Every club has the potential to give you the time of your life. It really comes down to YOU! Your music preference, your hotel location and what kind of nightlife experience you are hoping to have. It is the reason to call Vegas Party VIP. We remove the guesswork and connect you to the nightlife experience YOU will enjoy more than any other. Below are the Vegas Party VIP top five nightclubs in Vegas as of 2022.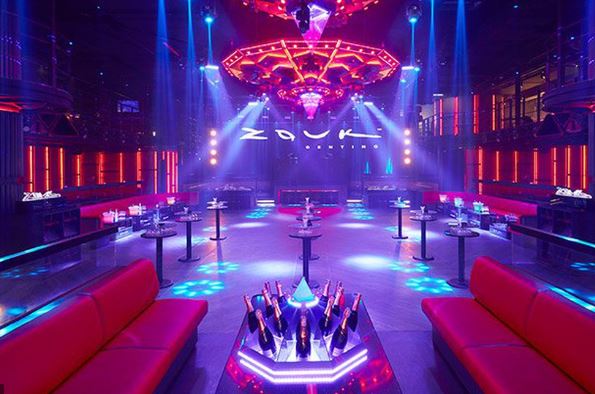 Zouk is the hottest trending nightclub in Las Vegas! Originating in Singapore and Malaysia, Zouk recently opened, now offering a new Vegas nightlife experience located in Resorts World. It's an innovative space that literally shrinks to separate venues or expands, all depending on the entertainment programming. In the words of their press, "Zouk pushes the boundaries of dance music." Probably the foremost technologically advanced club in town, it is a sensory paradise of sound and visuals like nothing before.
Partygoers journey through multiple sensory and music-driven experiences. The Mothership offers a unique blend of dynamic, automated, and static displays that tilt upwards. A world class street food hall that feeds your belly AND your soul, a vibe-dining restaurant, social gaming bar, karaoke lounge, boutique nightclub, and a luxury bohemian dayclub. All spaces are designed with versatility in mind. Any dedicated area can be configured and tailored to your specific needs, from intimate outdoor breakouts to large-scale gatherings. Throughout the venue, there are terrific areas for trendy social media content and even better for selfies. To top off the sensory adventure, you'll be able to explore the diverse sounds of upcoming artists: Maluma, Zedd, DJ Politik, R3HAB, Slander, and Charly Jordan.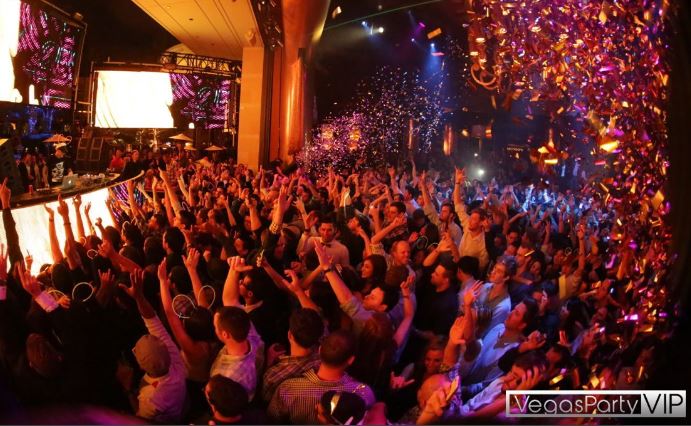 Inspired by the sexy curves of the human body. XS Nightclub is an elegant and intimate environment that surrounds Encore's European pool. Opulent ambience and luxurious indoor seating provides a perfect setting for guests to bask in the evening. Signature cocktails, bottle service, wine, spirits, and more all in the palm of your hands, literally! XS is the perfect backdrop for a never-ending parade of top talent, some including Diplo, Meduza, and Gryffin. Have Vegas VIP Party reserve your VIP table as soon as you possibly can because this spot is hot across Vegas!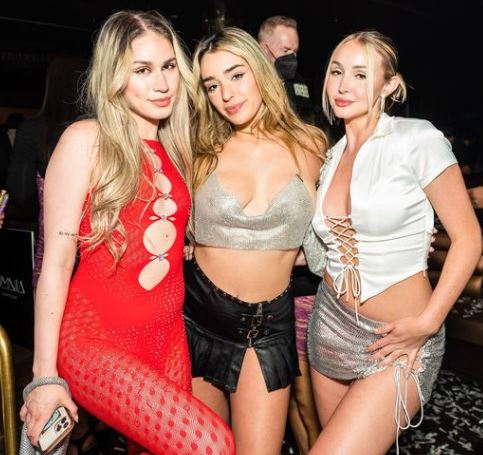 Located in Caesars Palace, this is an amazing, multi-room club featuring a massive outdoor patio! Come here to enjoy world famous Illenium. He's appearing once a month throughout the summer, don't miss the opportunity! Dance, see, and be seen amongst the Lasers! Lights! And Pulsating Music! The overhead array is vivid and truly one of a kind. VIP tables and panoramic views of The Strip await you when you contact Vegas VIP Party to set you up with no-hassle turnkey service.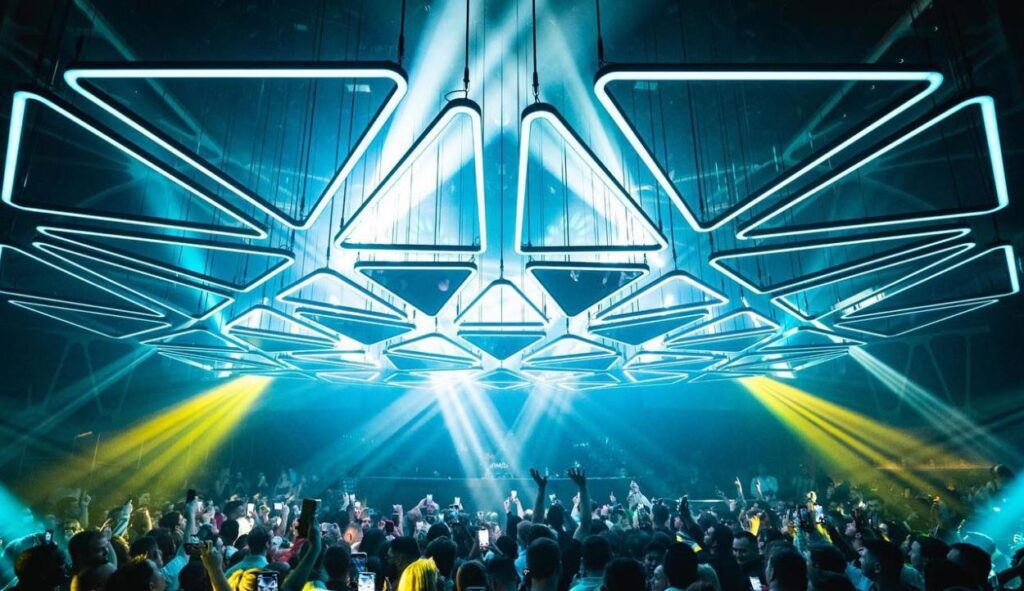 You're sure to find what you prefer at this solid, distinguished multiple 5-floor establishment. From the Mezzanine through the Main Room, down to Level 3 Club and Lounge, or over to the private restaurant, Hakkasan Nightclub is sure to astound! Every weekend features different heavy hitting DJs. Acraze is currently returning to the Main Room while Steve Aoki, Loud Luxury, Ludacris, and Deorro are upcoming. You'll encounter a new element with every turn, explore and take it all in! Ask about VIP tables and Unlimited Access.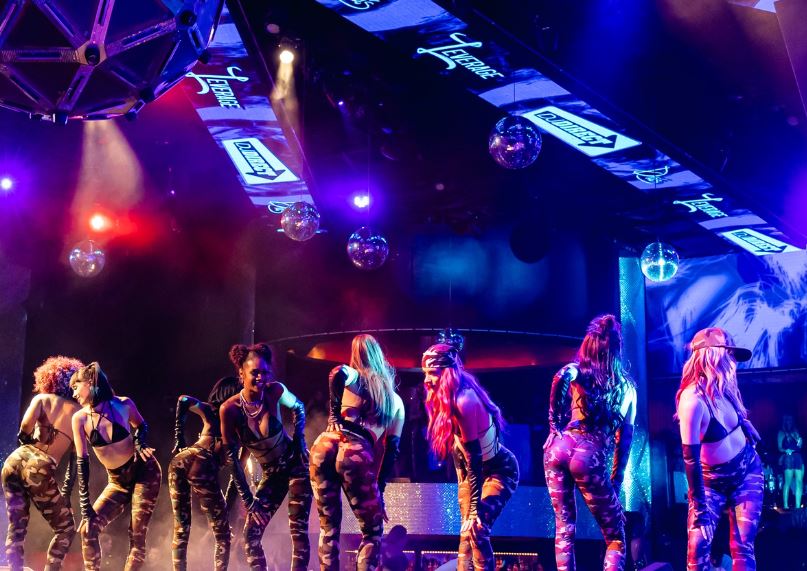 This icon remains famous and influential for its endless lineup of hot Hip-Hop performers and DJs. It's a Vegas mainstay that continues to be in high demand as one of the very best. One of the original "nightclub meets resort pool" concepts, this 70,000 square foot rooftop venue has unparalleled views of The Strip. Keep traction on all the action with their eight pools, three bars, and 7,000 square feet of state of the art digital screens! Bringing some of the world's most iconic artists to Drai's to elevate your experience even more, Wiz Khalifa, French Montana, and Gucci Mane are appearing this summer! Talk to Vegas VIP Party about holding your corporate or after-hours events here.
The post What are the top 5 Las Vegas nightclubs in 2022? appeared first on Vegas Party VIP.