Unveiling LIV Las Vegas and LIV Beach
September 27, 2023
LIV Las Vegas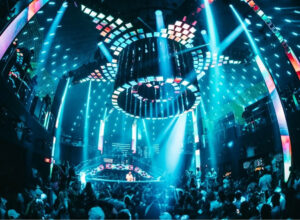 Source: Fontainebleau- LIV Las Vegas
LIV Las Vegas has announced it's plans to open December of '23, and it promises to de-LIV-er unparalleled nights. Originating in Miami, the world-renowned LIV brand is set to make waves in Las Vegas with the unveiling of LIV Nightclub—an adult playground crafted to enthrall, tantalize the senses, and transport patrons into a realm of fantasy.
Nestled at the heart of Las Vegas, LIV Nightclub beckons night owls and party aficionados to revel in a captivating fusion of pulsating music and immersive experiences. The venue poised to electrify nights with world-famous DJs, turning every gathering into a heart-pounding celebration. However, do take note, LIV may periodically close for private events or exclusive gatherings, underscoring its air of exclusivity.
For those in search of an ultra-VIP experience, LIV goes above and beyond, pampering its patrons with several banquette areas and private skyboxes. These meticulously designed spaces are complemented by the signature table service, which epitomizes luxury and indulgence. Consequently, these exclusive areas elevate the night, ensuring it becomes a truly extraordinary experience, where partygoers can revel in opulence and create unforgettable memories.
LIV Beach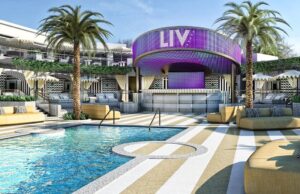 Source: Fontainebleau- LIV Las Vegas
The excitement doesn't end with LIV Nightclub. LIV is set to expand its horizons further with the upcoming launch of LIV Beach Club, anticipated to open in the spring of 2024. Anticipate a fusion of sun, sand, and beats, creating an atmosphere where the party vibe seamlessly synchronizes with the rhythm of the waves. LIV Beach Club promises a sunny party haven, embodying luxury and entertainment for enthusiastic revelers. Experience sun-soaked luxury at its finest.
As December approaches, LIV Las Vegas is gearing up to welcome all party enthusiasts. Experience a night like no other, where the music sets the tone, and the atmosphere electrifies. It's a celebration that doesn't rest; instead, it's an experience that resonates long after the night fades. So get ready to immerse yourself in the magic and allure of LIV, where the nights are destined to be legendary.
Fontainebleau Las Vegas
Source: Fontainebleau
The Fontainebleau Las Vegas, standing tall since 2008, faced its share of trials and tribulations. The tower soared to impressive heights, envisioning a magnificent structure that would redefine the Vegas skyline. However, as 2009 rolled in, the global financial crisis hit hard, leaving the Fontainebleau project in dire straits. Funding dried up, halting construction abruptly, and leaving Nevada's tallest tower incomplete, haunting the Las Vegas Strip as an economic downturn symbol. Ownership changes occurred, leaving the fate of the Fontainebleau uncertain, its potential obscured by the shadows of the recession.
But in 2021, the winds of change blew in a new direction. Jeffrey Soffer, a key figure in the Fontainebleau's resurgence, stepped forward, determined to resurrect this dormant giant. A vital cog in this revival was David Grutman, a hospitality visionary whose brainchild, LIV, would prove instrumental. LIV injected fresh energy and allure into the Fontainebleau, ensuring it wasn't just another hotel; it was a destination. This partnership, a marriage of visionary minds, ignited the spark that would set the Fontainebleau Las Vegas on the path to revival.
Now, emerging like a phoenix after a decade of dormancy, Fontainebleau Las Vegas will open its doors on December 13, 2023. As the sun sets and the lights illuminate the Vegas Strip, Fontainebleau Las Vegas stands as a testament to resilience. Moreover, Fontainebleau Las Vegas nights are legendary—a celebration of triumph and glimpse into the vibrant future of Vegas' hospitality. Additionally, it's an ode to enduring dreams and determination, promising a vibrant Vegas skyline.In essence, Fontainebleau Las Vegas is ready to shine.
Party Time
Source: LA Epic Club Crawls Las Vegas
While LIV Las Vegas promises an exhilarating nightlife experience, the excitement doesn't end there. Las Vegas, renowned for its vibrant party scene, offers the perfect way to keep the adrenaline pumping. Dive into the Vegas nightlife with LA Epic Club Crawls Las Vegas, providing epic tours of the city's best clubs. Delve into the Vegas nightlife with their group club crawls, pool crawls, and Fremont Street Bar Crawls. For those yearning for a touch of VIP treatment, indulge in their exclusive private packages and VIP bottle service options.
LEARN MORE
The post Unveiling LIV Las Vegas and LIV Beach appeared first on Las Vegas.