The Ultimate Las Vegas Bachelorette Party
June 28, 2018
LAS VEGAS BACHELORETTE PARTY
So somebody put a ring on your bestie's finger and now it's time for you to throw the HFD most off the hook bachelorette party ever. You've come to the right place for Las Vegas bachelorette party ideas and Las Vegas bachelorette party hotel packages. LasVegasNightclubs.com has been an integral part of people getting hitched in Vegas for years. We can even help you if you need to throw a Las Vegas bachelorette party on a budget.
While many Las Vegas bachelorette parties tend to be wild crawl across Sin City and it's top nightspots, you'll need to decide which nightclub will be homebase. Below are some of our favorite spots for a Las Vegas bachelorette party.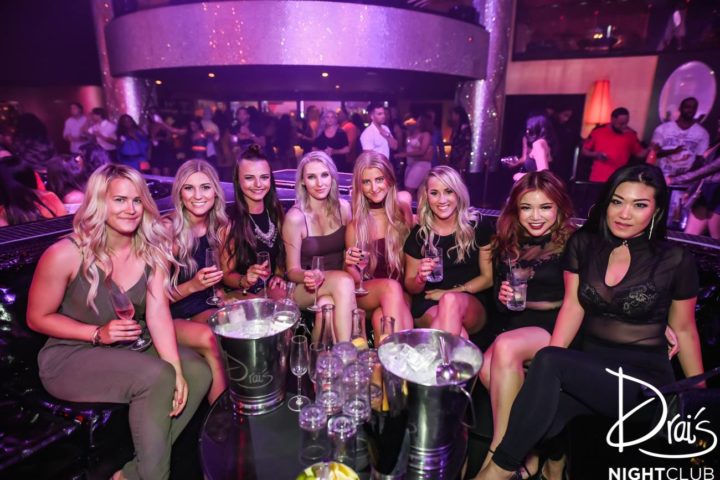 A quick elevator ride above The Strip speeds you up to Drai's. This multi-level nightclub/pool club is located on the top three floors of the Cromwell hotel, a sensual new boutique hotel. The home of live hip-hop nightlife entertainment on The Strip, Drai's is a dazzling hotspot boasting more than 25,000 sq. feet of plush environments, including two full-service bars, more than 75 VIP bottle service tables, and arms length access to the world's most famous DJs and chart-topping resident performers through the Drai's live concert series. Complementing an expansive dance floor, Drai's nightclub immerses guests into the ultimate nightlife experience with more than 7,000-sq. feet of LED video screens, 1,700-sq. feet of cutting-edge LED lighting systems, and a towering 80-sided LED disco ball – the only one of its kind. Based on the environment, you can easily tell that Drai's is as much a place for art as it is for dancing and drinking making it that much hipper. When the night is warm, which is most of the time in Vegas, the pool area is open with a view of the Strip, Caesar's Palace and the Bellagio fountains across the street.
Drai's bachelorette packages are ideal when held on a Friday or a Sunday as Saturdays are more difficult to work deals due to the popularity of the club. For example, a party of 8 girls on a Friday or Sunday night can get a 2 Effen vodka bottle package for $695 plus tax and gratuity for a total of $920. (That's $110 per girl, not bad for a decadent Strip nightspot.) Or choose a 2 Moet package also for $920 total.
On Sundays with a maximum of 10 girls, Drai's offers 2 bottles of premium liquor (Ciroc, Hennessey, Grey Goose, Patron or Whiskey) for the total price of $790.
If you're wondering how to throw the a bachelorette party in Vegas, Drai's is one of the few clubs that sets the standard. And don't forget about throwing a Las Vegas bachelor party here. When all is said and done, Drai's never disappoints.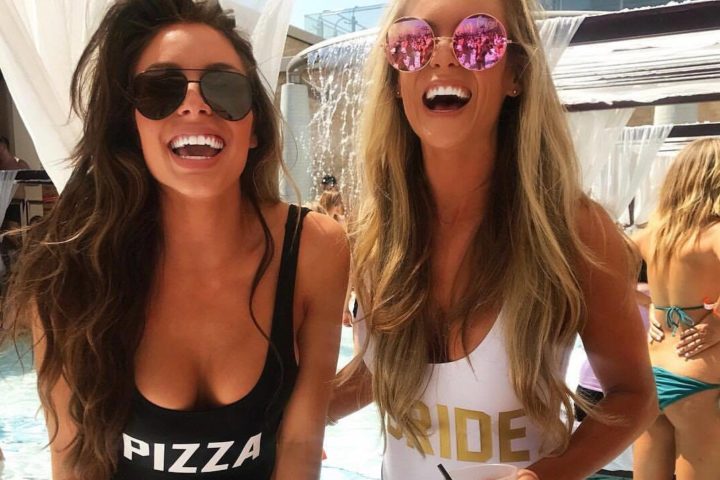 When you see all the people lined up on the second floor of the Cosmopolitan, one peak inside the Marquee Nightclub and Dayclub will make you understand why they're so willing to queue up for a chance to pass through the velvet ropes. The main room at Marquee is reminiscent of a classic Vegas lounge replete with a disco ball. The music in the main room is almost entirely EDM but that's not where Marquee ends. The Boom Box Room plays hip-hop and features a 360-degree bar and lots of VIP tables surrounding the dance floor. And speaking of dancing, the Boom Box Room is usually so crowded, you'll feel like you need to hold in your breath not to touch another patron. The tables in the back and side areas even have a view of The Strip when the curtains are open. There's even a narrow, outdoor balcony to grab some much needed fresh air. And finally, there's the Library that's ambience changes from sexy party club to sit in a chair and have an actual conversation with someone. While you probably won't spend your whole night in the Library, it's good to know it's there for a well-needed respite from the action of the other two rooms.
Include Marquee on your Las Vegas bachelorette itinerary and you'll be getting the ultimate VIP bachelorette package. Marquee Nightclub and Dayclub bottle service packages include expedited entry into the venue, a table that's yours for the entire night, all juice and soda mixers included, waitress, busser and security officer in your section to assist as necessary, no cover charge, the price of your table (not including taxes, fees and gratuity) becomes a credit to use toward the purchase of your bottle service, and a complimentary bottle of champagne.
The Marquee also offers drink ticket and open bar packages. These packages include:
The Diva Debauchery (nightclub only) which includes VIP entry and 3 premium drink tickets per girl.
The Ultimate Unveil (nightclub only) includes VIP entry and one hour open bar at Marquee from 10:30 p.m. to 11:30 p.m. plus 2 premium drink tickets per girl.
Not to be left out, the Marquee Dayclub also offers a package called the Get Wet package. This includes VIP entry, one hour open bar at Marquee Dayclub and 2 drink tickets per girl.
And finally, if you like, a Marquee host can help you with tickets to a Chippendales show, schedule a burlesque class or blowout reservations for the Dry bar.
After over ten years in operation, TAO is clearly a Vegas mainstay. This Eastern-inspired party spot offers a ying-yang of the spectrum of partying. Start by eating at the TAO restaurant from a delectable and formidable menu. Then venture into the TAO nightclub to experience more energy than any monk can handle. The reddish hue fills the main room while the ambience is a take on Buddhism and ancient styling mixed with modern club design. To add to the decadence, throughout the club you'll find girls in bathtubs filled with flower petals. The dancing space is separated into two areas: The main dance floor full of bumping music, sweating bodies and a high powered light show, and the lounge space full of seating that's just the right mix of intimate and open. The lounge boasts a bar where they take their cocktails seriously. The dance floor has the DJ booth. And the two spots connect to each other through the main walkways. If you're tired of dancing and you can't score a table on the second floor overlooking the main room, the Opium Room, a chill lounge, might be the place for you. Another reason for the club's prolonged popularity is its ability to bring in names such as Diddy, Snoop Dogg and Krewella.
When it comes to a Las Vegas bachelorette party, a bride-to-be wearing some kind of obscene headgear is evidence that this place has the bachelorette thing down. One of the advantages of a Las Vegas bachelorette party at TAO is their dedicated bachelorette coordinator who's handled hundreds of these blow-outs. The evening can begin with a sumptuous dinner at TAO Asian Bistro and then an escorted move on to TAO nightclub (or TAO beach in summer) right to your table.
Be forewarned, this much lavish attention doesn't come cheap. Not including dinner, the best table locations start at $2,500 and include a bottle of champagne. Bottle service is a cost on top of that. If you've got the bucks, TAO can arrange limo transportation, hair and makeup, a cake at your table and more.
Some of the packages TAO offers include the Bachelorette Final Fling Drink Ticket Package where you'll receive VIP entry plus 4 premium drink tickets per girl to be used at TAO Nightclub, TAO Beach or Lavo Party Brunch. The package also includes a VIP table. 
The Bachelorette Blowout Open Bar Package includes VIP entry plus a one hour open bar at the following venues all weekend: TAO Nightclub, TAO Beach and LAVO Brunch. This package does not include a VIP table.(Check with a host for open bar hours.)
The Bachelorette Silver Table Package includes expedited entry, entry level table placement, all juice and soda mixers included, waitress, busser and security officer in your section as needed, complimentary bottle of champagne.
The Bachelorette Gold Table Package which includes expedited VIP entry, upgraded 

table placement, all juice and soda mixers included, waitress, busser and security officer nearby as necessary, and a complimentary bottle of champagne.

Bachelorette Diamond Table Package which includes expedited VIP entry, main room table placement and the table is yours all night, all juice and soda mixers included, waitress, busser and security officer in your section, and a complimentary bottle of champagne.
Check with the bachelorette party coordinator for individual provisions for each package.
The post The Ultimate Las Vegas Bachelorette Party appeared first on .