The Best Las Vegas Pool Parties In 2023
March 11, 2019
Best Las Vegas Pool Parties:
When summer arrives in the desert, things get even hotter as the Las Vegas pool parties open. Glistening smooth skin, taught muscles, sparkling water, DJs and their tunes, and tall cocktails round things out to become what is essentially a raucous nightclub during the day, thus the term dayclubs. Imagine all this and the thumbs up to start partying way before it's 5 o'clock somewhere.
Watch the video and then read on to learn what and where the best pool parties in Vegas 2023 are.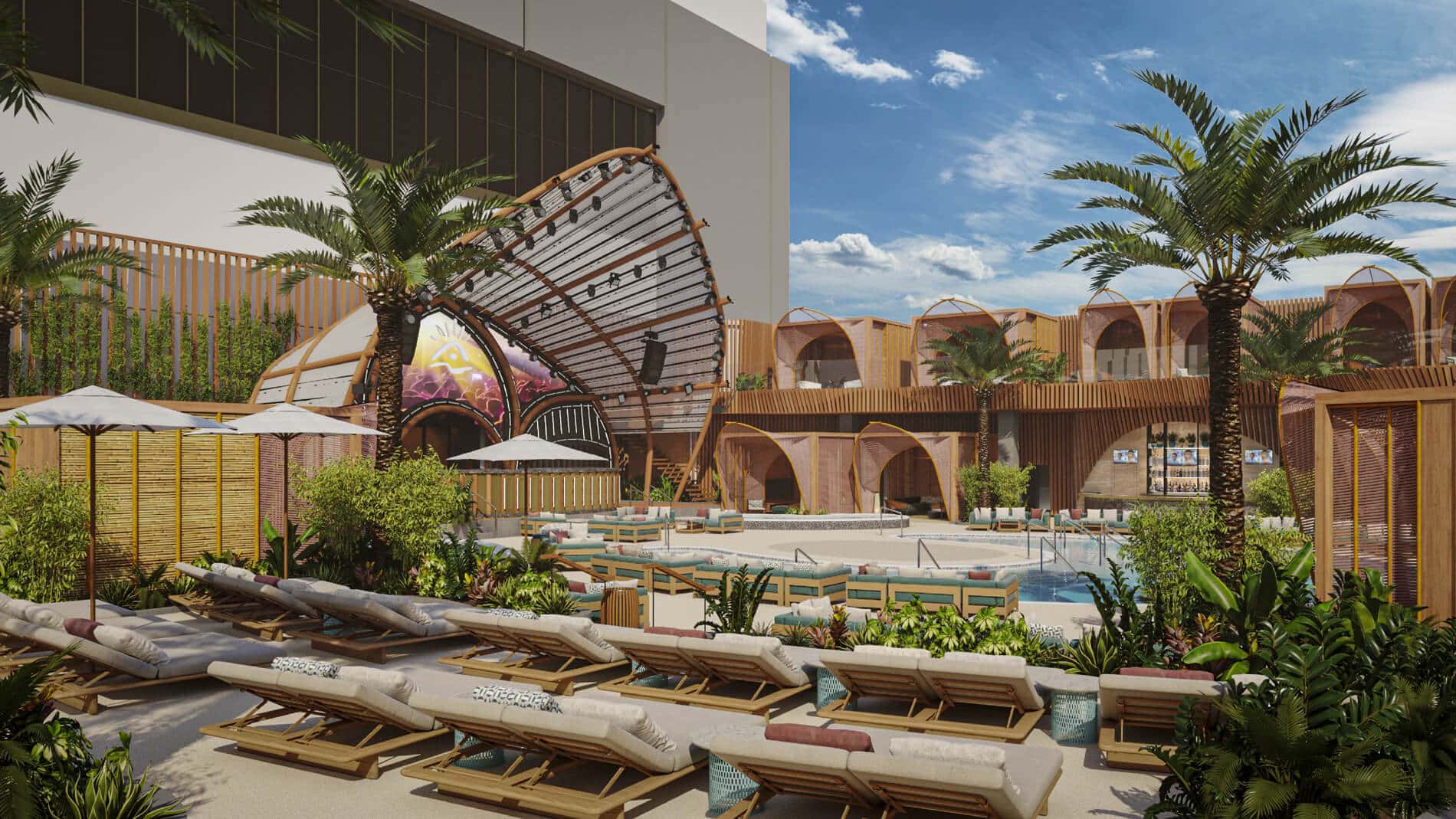 Ayu Dayclub seeks to create harmony and balance by imitating nature in the design. As our guest move through the beach club, a series of Instagramable moments should unfold. Our design creates a sense of enclosure with the use of natural components such as stone, bamboo, water, wood and gravel. Ayu balances nature with man made by incorporating a state-of-the-art multipurpose performance stage that will serve as the backdrop to some of the best talent in the world.
For bottle service reservations, contact Mike Glenn, a Ayu Dayclub host today!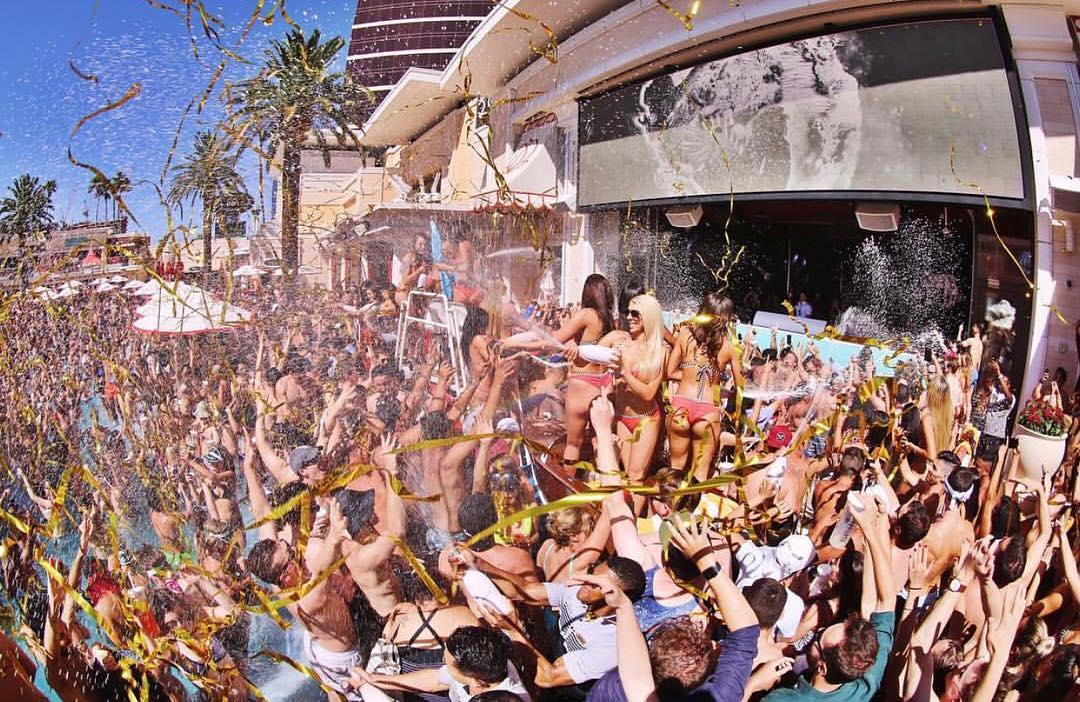 Wynn Resorts does it again. This time outside at its Encore Beach Club located where else, but at the Encore hotel. Never one to skimp on luxury, EBC doesn't disappoint. This 60,000-square-foot, luxurious venue offers a new bar to tempt your tastebuds and some additional cabanas for 2019. The DJ roster is, of course, stellar and includes luminaries such as the Chainsmokers, David Guetta, and Kygo. Additionally, EBC has signed MMA champ Conor McGregor to host events at the Wynn properties. On Thursday through Sunday evenings, EBC at Night opens it's doors and boasts not only the pool but what was Surrender nightclub for rocking indoor/outdoor nightswim parties.
Contact Kalani Caspino, an Encore Beach VIP host for reservations and pricing.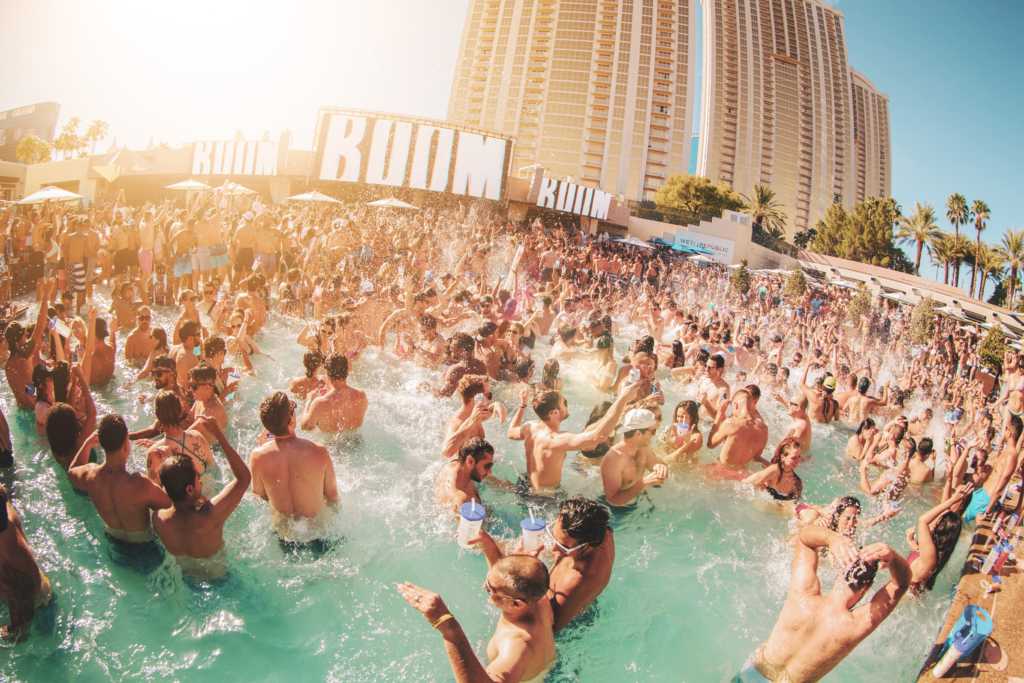 A quick check of the Las Vegas pool parties schedule and you can't help but note that a "Champagne Season" is the theme at Wet Republic in the MGM Grand for 2018. Expect total debauchery with champagne showers, a giant video wall and A-list DJs including Steve Aoki, Tiesto, and Martin Garrix. Dip into one of two large saltwater pools to cool off and order a scintillating blueberry martini from a 95-foot-long marble-topped bar. Of course, if you prefer to just hang and take in the scene, there are 10 cabanas and 12 VIP bungalows in which to hold court. Naturally, bottle service is available from a roster of model-like, bikini-clad waitresses.
Contact Chris Trillo, Lead Host at Wet Republic for reservations.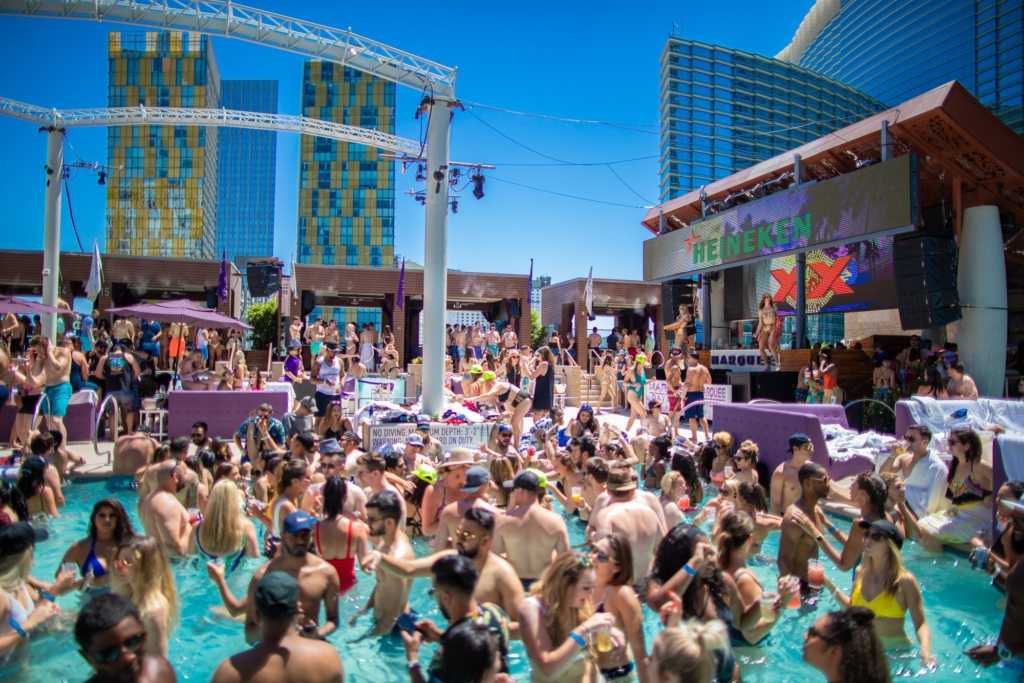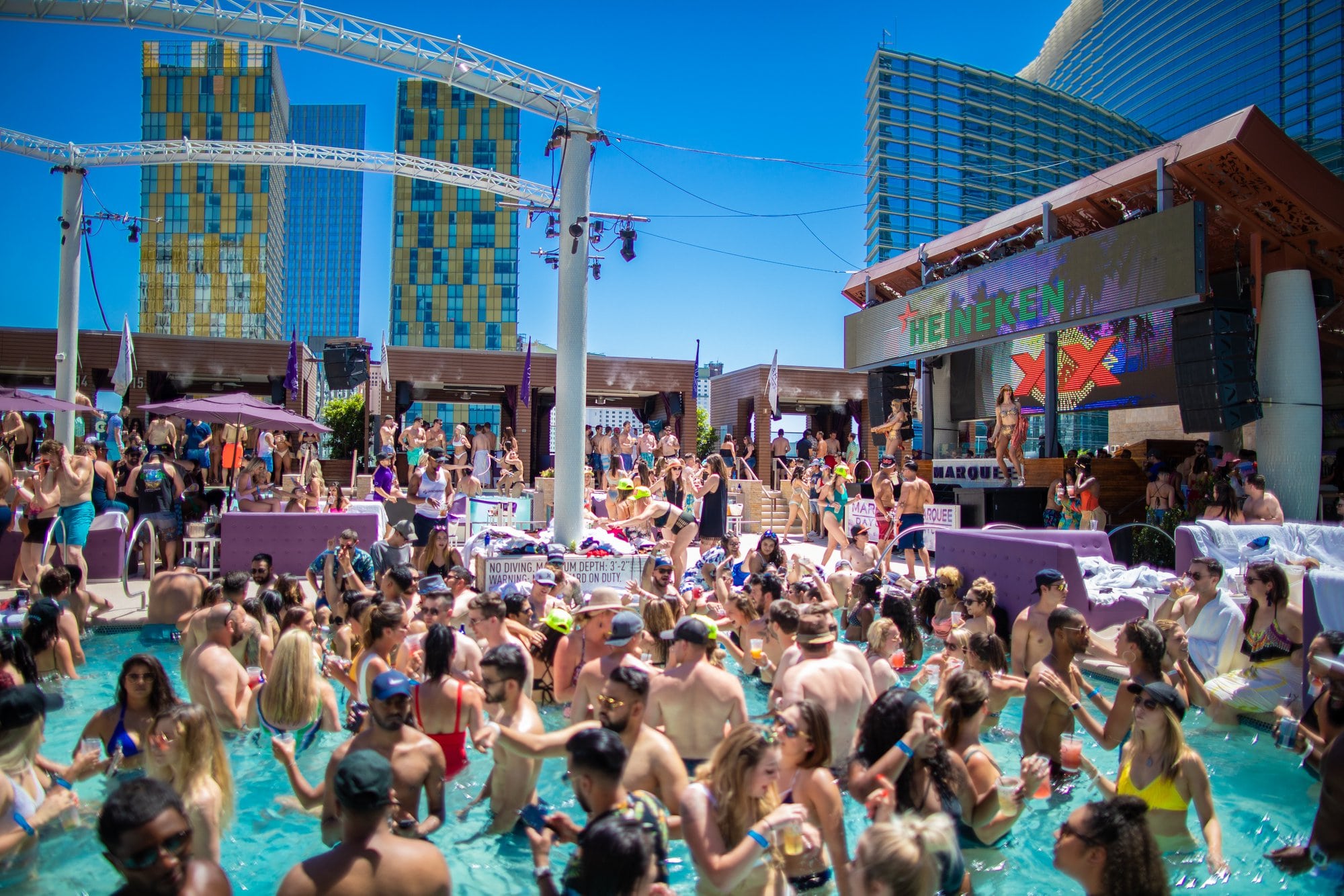 Of all the Vegas pool parties in 2018, the pool party that might be the most fun is the one that doesn't stop just because the weather cools. The Marquee Dayclub located at the Cosmopolitan simply erects the Marquee Dome overhead and viola! instant comfort even on chilly days. To ensure its place among the most extravagant, the Marquee Dayclub boasts eight cabanas replete with infinity pools and ten three-story bungalow lofts with private living areas and open air decks overlooking the sparkling pool. Indulge further by taking your chances with some outdoor gaming. The decadence continues Monday through Thursday when ladies are invited to sunbathe European-style aka topless.
Be sure to book today with Cliff Orr, Marquee Dayclub Lead host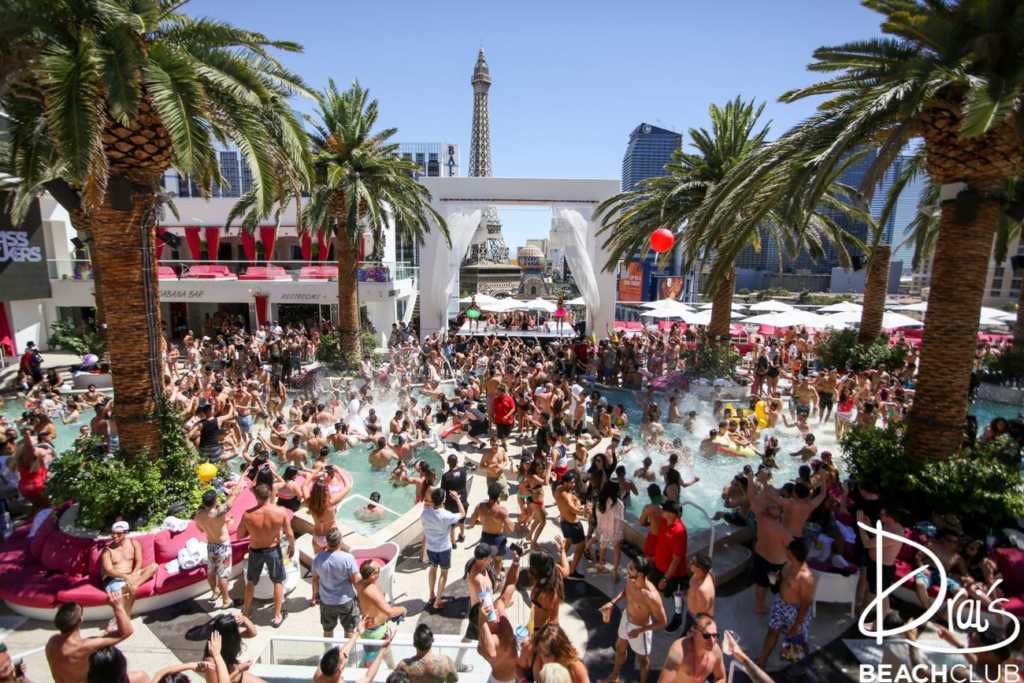 If you worship the sun, you can get even closer to it at Drai's Beachclub; eleven stories closer. This palm-studded, rooftop wet wonderland is open Fridays through Sundays and features the best hip-hop artists in Sin City. It's located at the newly opened boutique hotel, The Cromwell. Drai's Beachclub offers views of almost the entire Strip plus the spectacular Bellagio Fountains. It also boasts some of the best poolside dining with avocado toast and internationally-themed hot dogs. (Just say no to nachos.) On the main deck, you'll find two large pools plus five smaller elevated pools that are shared by the VIP bungalows. For the ultimate indulgence, rent one of fifteen mezzanine-level cabanas with private pools, showers, and restrooms.
For reservations contact Phil Loomis, Lead Host at Drai's Beach.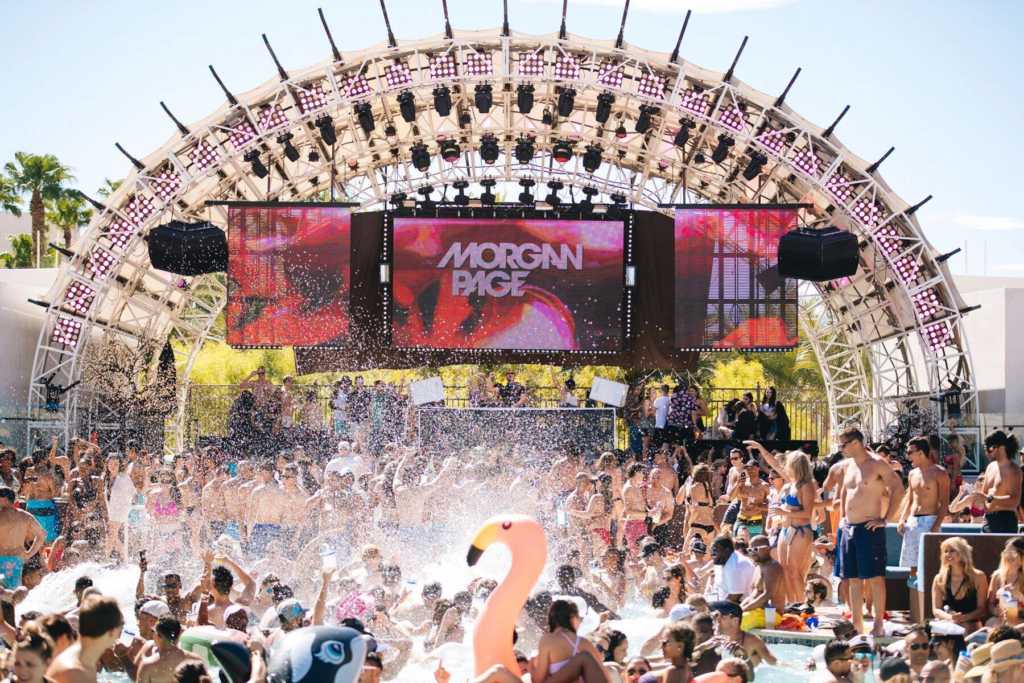 When it comes to choosing a Las Vegas pool party, Daylight Beach Club will help you see the light. Besides the infamous wave pool and the lazy river, the Daylight venue at the Mandalay Bay offers 50,000-square-feet for performances by DJs and other musical acts including E-Rock, Scooter & Lavelle, Eric D-Lux, DJ Mustard, DJ Scene, and Baauer. To ensure its place among the extravagant, Daylight features 70 daybeds, 25 cabanas, 6 immense LED screens, and a 5,000 square-foot pool. The thirsty can order from a myriad of impeccably prepared frozen cocktails, kick back in the VIP bungalows or dance to hip-hop and top 40.
To make reservations, contact Oliver Porter, Lead Host at Daylight.
Located at the Aria, Liquid is an adults' only pool area tucked behind the Aria resort's three other pools in a world unto itself. To give you an idea of how adult this venue is, the bar features an extensive champagne list ranging from $15 for a house glass to $17,500 for a 1.5 liter bottle of Veuve Clicquot Yellow Label. At just 16,000-square-feet, Liquid is smaller and far more intimate than other Las Vegas pool parties. Guests can settle themselves into sumptuous luxury in one of Liquid's eight massive private cabanas, each of which comes complete with a 40″ fat screen TV, mini fridge and private pool.
If you're looking for something a little closer to what action there is, you can relax on one of the chaise lounges or day beds that line one of the two pools. Sunbathers can retreat from the rays and order off the delectable menu. Favorites include coconut shrimp, Mahi Mahi tacos, and mojitos. On the main deck, the party is fueled by DJs and fruit-infused cocktails. If you're looking to rage, this isn't the place for you, but if what you want is a sophisticated and serene ambience, Liquid could be just your cup of tea.
Contact Gino Dipetro, Lead host at Liquid Pool for reservations.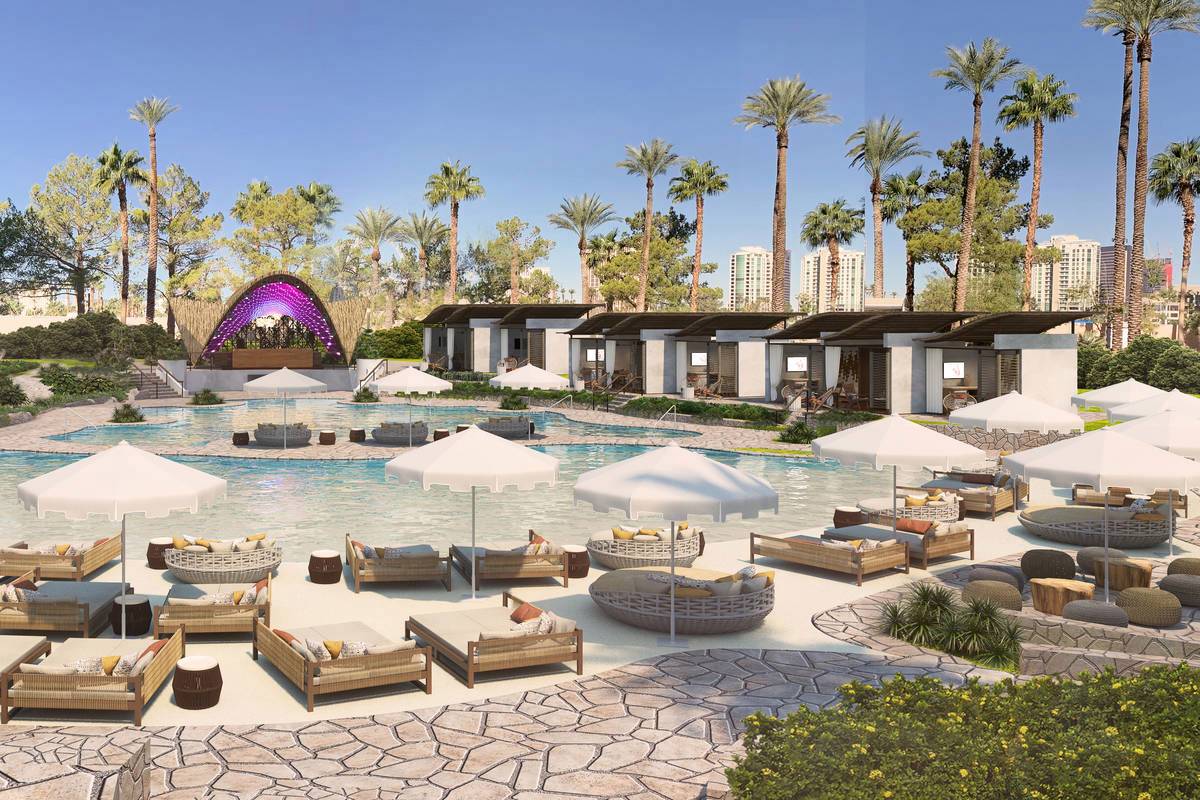 Elia Beach will debut at the Virgin Hotel Las Vegas this June 2021. This newest beach club will overlook the Mediterranean-colored pool, and the musical style of DJs and notable guest performers will incorporate tropical house, world house and deep house, with a mindset of escape, dancing and just good vibes.
For bottle service reservations, contact a Elia Beach Club host today!
If you're looking for an upscale, sophisticated environment to take in some sun and some topless women, Bare is just the place for you. Located at the Mirage, the trek along a jungle-like path is enough to tell you that you're not in Kansas anymore. Here you'll find a 14,000-square-foot hideaway that encourages European-style sunbathing aka topless. Bare also features two luxurious dipping pools, a full service bar, six plasma screens, sumptuous poolside daybeds and chaise lounges along with well-appointed cabanas. This intimate venue offers a more relaxing, chill atmosphere than other day clubs as it lacks the wall-to-wall frenzy that is the vibe at other pools. Bare offers guest DJs from Thursday through Monday with a special industry party on Monday.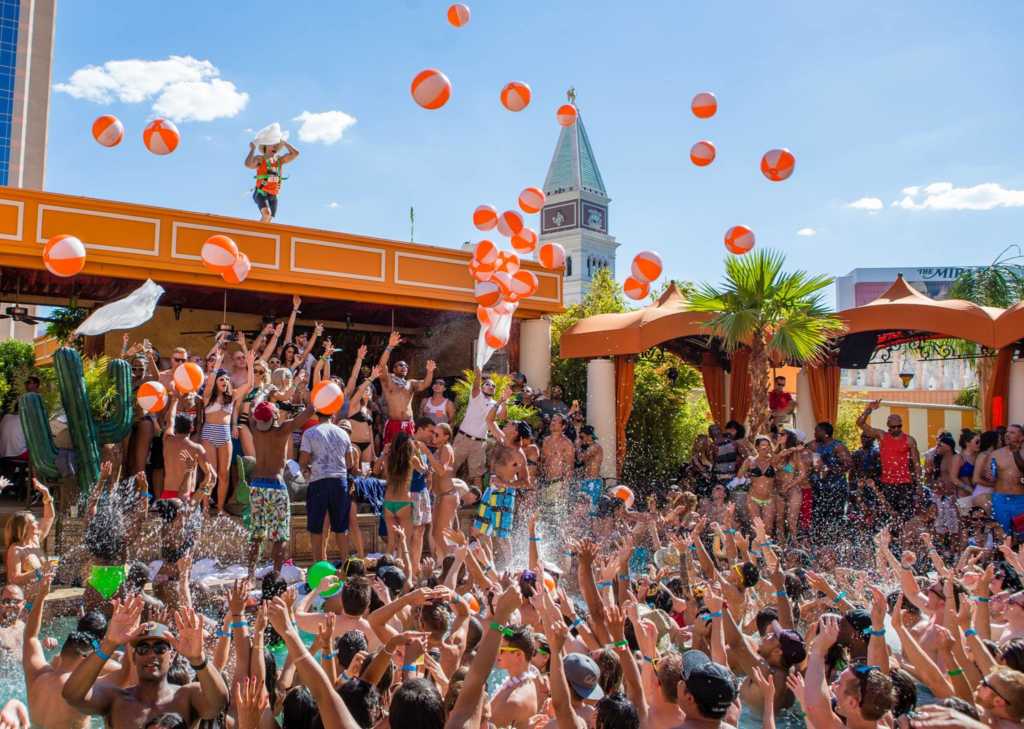 Like it's namesake nightclub, TAO Beach is a Eastern-inspired tribute to sun, sand, water, and decadence located at the Venetian. During the day, luxury-focused party-goers can lounge poolside in one of twelve cabanas that feature such amenities as air-conditioning, high def plasma screen TVs with gaming consoles, WiFi and customized mini bars. Other services available include sunglass cleaning and poolside massages. Day beds dot the landscape throughout this 18,000-square-foot oasis which also boasts a 30-foot bar where guests can order TAO-tinis and TAO-jitos carefully crafted with fresh exotic ingredients.
Open every Thursday, Friday and Saturday in summer, this sun-drenched venue also offers myriad VIP tables for bottle service. As the day turns into night, revelers will find themselves in an open-air nightspot boasting two 14-foot long fire columns and high energy music from resident and international guest DJs playing a mix of top 40, hip-hop and open format music.
More Vegas Pool Parties, But at Night:
Here were have pool parties in Vegas that take place at night. But are worthy enough to be on our list of the best Vegas pool parties.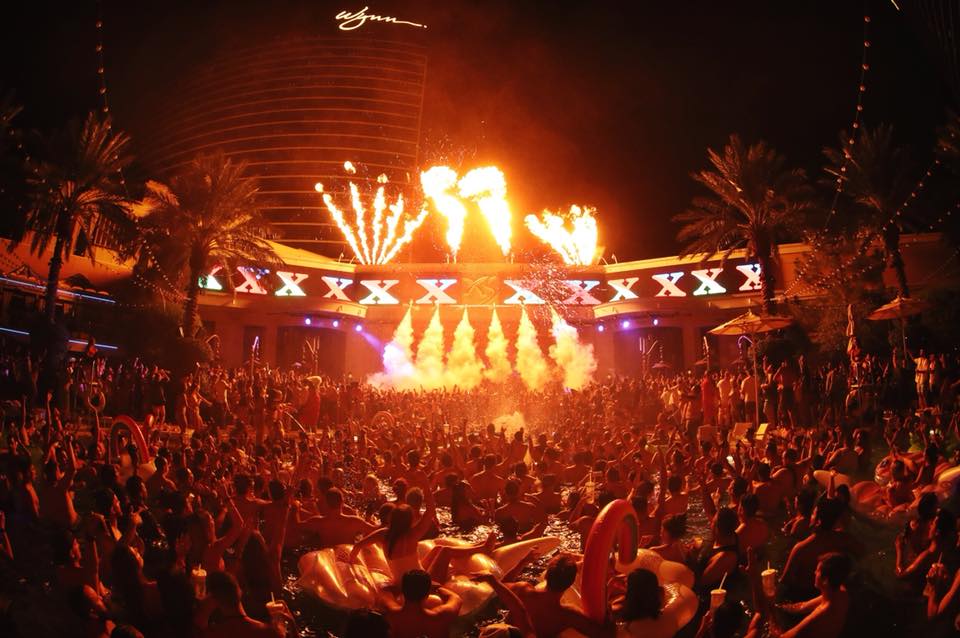 Sundays are a day of worship. One trip to XS Nightswim on Sunday night and you'll be a convert. XS Nightswim at XS Las Vegas feels like the incredibly lush and decadent XS Nightclub opened it's doors to its backyard pool. If it feels that way it's because that's exactly what it is. Just behind the DJ booth is the outdoor pool where you'll hear performances from a who's who of artists. People you've actually heard of. The cutting-edge lights and sound system were designed to ensure that those enjoying the night air have the same experience as those who prefer to stay inside. Massive lighting systems with lasers and screens are mounted around the club's poolside entrance.
Naturally, XS Nightswim takes the VIP experience to a new level replete with elegant surroundings and astounding bottle service. Extending to the outside pool area is the same concept that made XS as ridiculously excessive as it is.
Your Sunday night plans just got drenched! Starting Sunday April 18th, join us at The Pool Marquee for Drenched After Dark. Night time cabana life is back with bottle service under the stars. Be sure to bring your bathing suit as swimming is optional.
The post The Best Las Vegas Pool Parties In 2023 appeared first on .