The Best Bars on Fremont St
October 6, 2023
If you're looking for a lively night out in Downtown Las Vegas, the bars on Fremont Street offer an exciting array of entertainment and unique experiences. From game-filled havens to karaoke extravaganzas, here's a curated list of the Best Bars on Fremont St to visit, including a bonus venue just a block away.
Gold Spike – A Playground for Games and Creativity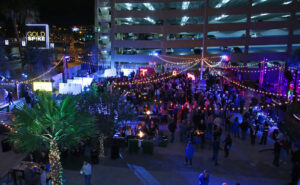 Source: Las Vegas Event Planner
Location: 217 Las Vegas Blvd N, Las Vegas, NV 89101 (Las Vegas Blvd N & Ogden) Hours: Open 24 hours, 7 days a week
Gold Spike, though not strictly on Fremont Street, is a must-visit just a block away when visiting Fremont Street bars. Boasting a vast 45,000-square-foot venue, it offers a creative blend of games such as giant beer pong, chess, foosball, and more. The outdoor courtyard hosts live music during special events on Fridays and Saturdays, creating a dynamic and engaging atmosphere. With its diverse game options and regular roller skate parties, Gold Spike promises an unforgettable entertainment experience.
Cat's Meow – Karaoke Bliss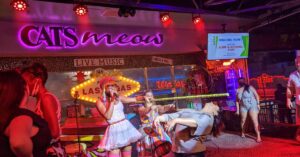 Source: Eater Vegas
Location: 2nd floor of Neonopolis (450 E Fremont St Unit 201, Las Vegas, NV 89101) Hours: Fri & Sat 5pm-5am, Sun-Thurs 5pm-2am
Cat's Meow is a mecca for karaoke on Fremont Street. This vibrant bar features enthusiastic MCs, engaging games, and a mix of musical genres. Sing your heart out or participate in entertaining games to win free shots. The lively ambiance and engaging staff ensure a night of laughter and joy, making Cat's Meow a must-visit on your Fremont Street adventure.
We All Scream – Where Music and Desserts Collide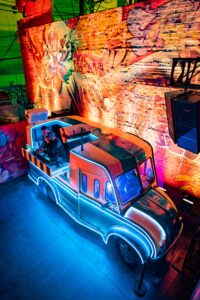 Source: We All Scream
Location: (517 Fremont St, Las Vegas, NV 89101) Hours: Thu–Sat 10pm-Late
"We All Scream" offers a unique nightclub experience in Las Vegas. Combining delectable tunes, desserts, and dance floors, this venue lets you choose your music flavor across different areas. Whether you're into Nu Disco & Dance Pop, Tech House and House Music, or Hip-Hop and Future R&B, there's something for everyone. It's a full-fledged nightlife extravaganza that promises a memorable night out.
Lucky Day – Immerse in a Magical Realm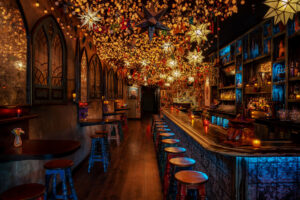 Source: Lucky Day
Location: 516 E Fremont St, Las Vegas, NV 89101 (2-min walk from El Cortez Hotel & Casino) Hours: Sat & Sun 4 pm – 3 am, Mon 7 pm – 12 am, Tues-Fri 7 pm – 3 am
Lucky Day transports you to a magical realm with its breathtaking art and lively Latin rhythms. This vibrant bar offers an impressive selection of small-batch tequilas and rare mezcals, complemented by tantalizing signature cocktails. With captivating visuals and a lively dancefloor, Lucky Day invites you to let loose and have an unforgettable time in the heart of Fremont Street.
ZAI – A Fusion Hotspot for Food and Nightlife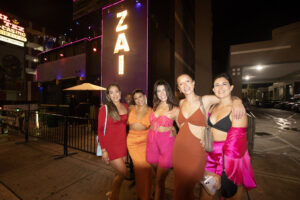 Source: Zai
Location: (700 E Fremont St, Las Vegas, NV 89101) Hours: Thurs – Tue 10pm – 2am
Experience a culinary revolution at ZAI, a fusion hotspot in the heart of downtown Las Vegas. Renowned for blending traditional Latin American flavors with contemporary culinary techniques, ZAI offers an extraordinary dining experience. From small plates to entrees and desserts, every dish is meticulously prepared and presented with an artistic flourish. To complete the experience, ZAI features an open-air rooftop club. From there craft cocktails and truly breathtaking views of downtown Las Vegas await.
Legacy Club – An Elite Rooftop Lounge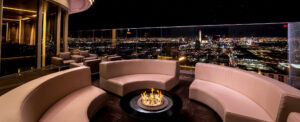 Source: Circa
Location: (Circa Resort & Casino) Hours: Fri & Sat 2pm-4am, Sun-Thurs 4pm-2am
Legacy Club is an elite rooftop lounge with a modernized 1920s ambiance and breathtaking views. With elegant decor and a bar offering a unique build-your-own Old Fashioned service, it's the epitome of sophistication. Sip cocktails in the luxurious interior or sit fireside on the balcony as you watch the sunset over the valley. The Legacy Club is a dress-to-impress venue, adding to the allure of your night out on Fremont Street.
Hennessey's Tavern Las Vegas – The Irish Pub Experience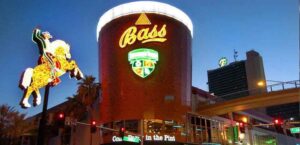 Source: Vegas.com
Location: East end of Fremont Street Experience (425 E Fremont St #110, Las Vegas, NV 89101) Hours: Fri, Sat & Sun 9am-2am, Mon-Thurs 11am-2am
Hennessey's Tavern is an Irish pub that has become a staple on Fremont Street since its opening in 2006. While primarily a pub, it offers a vibrant atmosphere, live music, and happy hour specials. Patrons can enjoy fresh squeezed cocktails and delicious appetizers during happy hour, making it a go-to spot for a casual and lively night out. With indoor and outdoor seating, it's a versatile choice for various occasions.
Maximize your adventure on Fremont Street with a unforgettable Bar Crawl from LA Epic Club Crawls! Going to the best bars on Fremont Street individually may mean enduring long admission lines, but the tailored package ensures a seamless experience. Enjoy swift, express entry to the best bars and lounges in Las Vegas. The dedicated hosts will make sure you're treated like a true VIP, ensuring the party never stops all night long. Fremont Street in Las Vegas offers an array of bars and lounges to suit every taste and preference—whether you're into game-centric bars, karaoke madness, or the fusion of music and desserts. Experience a memorable night out in downtown Las Vegas at these fantastic venues with a Fremont Street Bar Crawl; where you can join a group and party with others from all over the world, or build your own custom private package!
BOOK A BAR CRAWL NOW
BUILD A CUSTOM PRIVATE PACKAGE NOW
The post The Best Bars on Fremont St appeared first on Las Vegas.