The 5 Cheapest Nightclubs in Vegas – Where To Find The Best Deals
December 1, 2022
Everyone knows Las Vegas is famous for its high-end clubs, but while the city thrives off big spenders, you can still have fun without blowing the bank. The cheapest nightclubs in Vegas still offer patrons the chance to see A-list headliners and enjoy lavish venues, but the cost won't necessarily send you spiraling after checking your account the next morning. Between cover fees, drink prices, or even table service, it can be easy to drop a big sum, so this list will help you pick out the best places to go and leave you with some cash to party more! Whether you want to see a favorite DJ or performer, or just want great views and exquisite decor, these spots will give you the full Vegas experience – and the best part is, you can probably visit them all if you manage your budget at each one!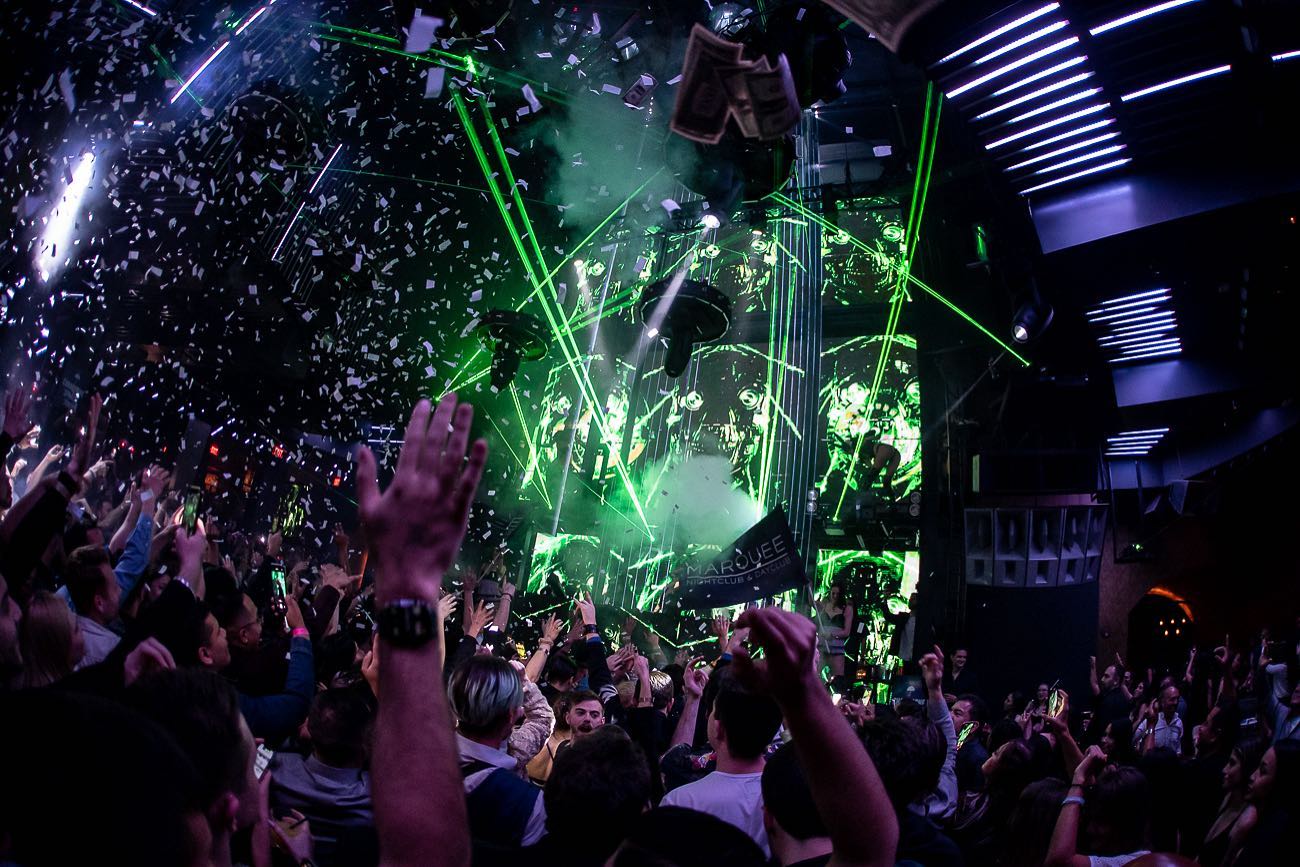 Marquee Nightclub actually put Vegas on the Dance genre map, introducing the strip to the EDM craze that is now the focus of the city. The venue has three rooms and seven different bars to choose from, meaning you can spend an entire night exploring and ordering drinks from different vantage points. One of the best parts about Marquee is their guest list, which lets women in for free and men in free with an equal ratio. Saving money on entry means more spending for drinks, which usually cost between $10 – $25 depending on what you fancy. Beers are always more affordable than cocktails, but these prices are fairly standard in the city across the board. If you're looking to splurge a little, entry-level tables only cost $600 and can accommodate six guests. The lowest cost table is located in the salon, and the next level up is in the Cloud area, followed by the third tier main room which runs around $800 minimum.
TAO is one of the most lavish and luxurious venues on the Strip, so it might surprise people to find out it is one of the cheapest clubs in Las Vegas as well. This isn't to say a penny was spared on the decor and design, nor on the impressive lineups they provide for guests. TAO Group knows how to throw a party, but they also want people to enjoy their offerings on any budget, which is why the club has a guest list for women and men. The list allows females free entry from 10:30 until 1 am, and males can get in without paying if they are part of an even ratio group. Ticket prices go as low as $20 for women and $30 for men, and can go up from there depending on the headliner. Women who don't mind sharing a table with others can even get bottle service for only $50 and men can do the same for $100. Entry-level bottle service starts at $700, or you can indulge a little with a TAO Dinner and Nightlife which includes a preset menu at the restaurant and a bottle in the club for $800.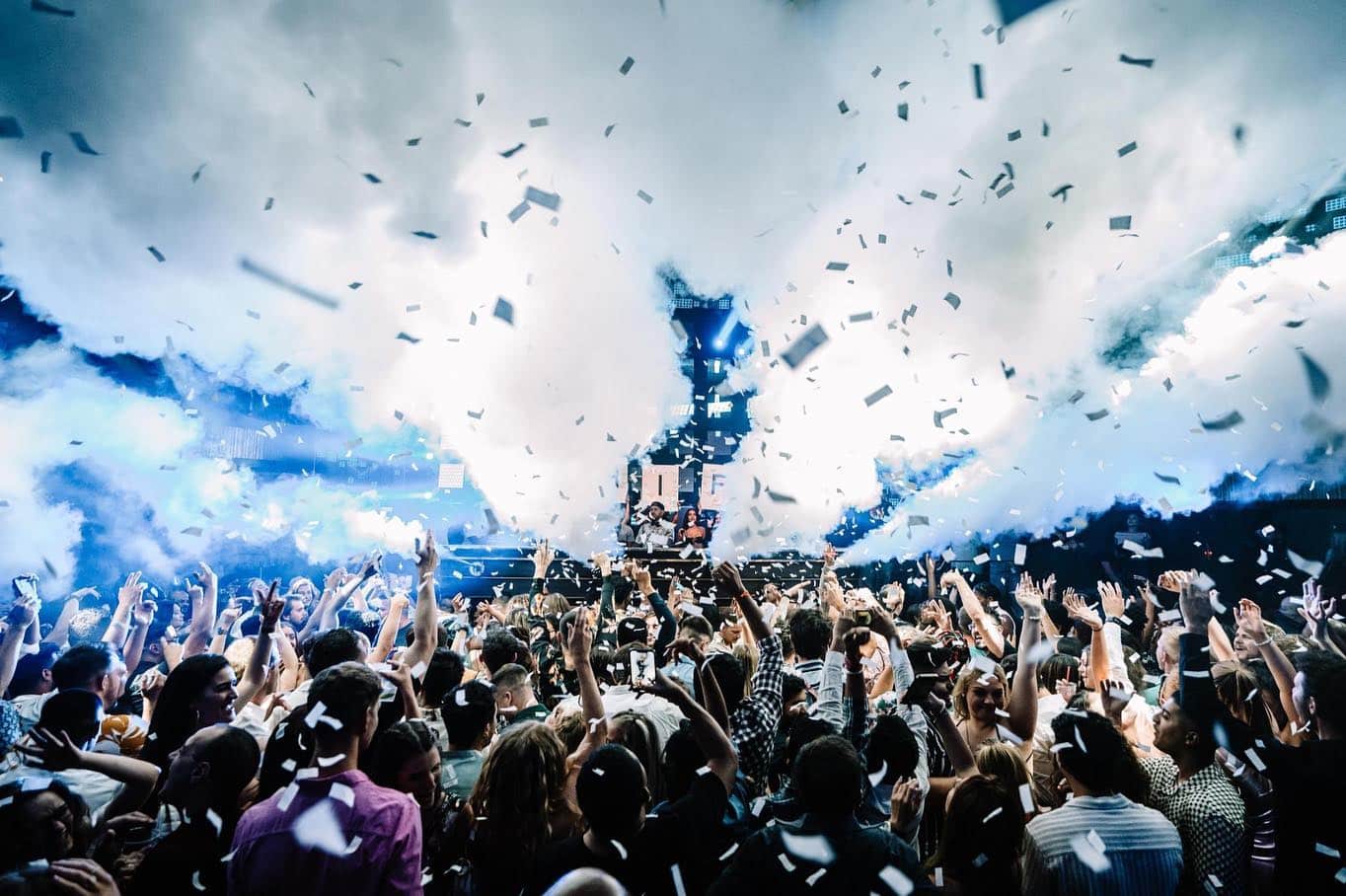 Jewel is known for being a small, intimate space with big impressions. From the bright LED ribbons that run along the interior to the opulent booths that provide a vintage air, there is nothing about Jewel that would hint at "saving money." However, like with the other clubs on this list, the venue provides guests with ways to budget and still enjoy the big-baller vibes. Not only can you gain free admittance via the guest list, but tables start at only $750 and get you balcony seating to view everything from above. Drinks can cost anywhere from $8 to $17, but premium options might run higher. Tickets range in price, but many nights general admission is only $20 for women and $30 for men. Booking in advance can be beneficial, too, so check the website for pricing and headliner lineups to ensure you get the best deal (or use our guest list to get in).
EBC at Night is unlike anything else you can partake in while in the city, and is definitely worth a visit when you're here. Pool parties after dark combine the glitz and glam of the club with the carefree attitude of the daytime festivities the Strip is known for. Considering how popular these events are, you would think it would be one of the more expensive activities, but EBC is actually one of the cheapest clubs in Las Vegas. They do not offer guest list, but their entry prices range from $30 to $50 on most nights, though they can go higher for bigger DJs or artists. When ordering at the bar, expect to pay around $10 to $20 depending on what you choose, with beers being the cheaper option and cocktails costing more. If you want to experience an outdoor table, entry-level pricing starts at $777 and gets you two 750ML of liquor, four Red Bulls, and four waters, which is a bargain for a spot like EBC.
Drai's Nightclub has made a name for itself by being one of the top Hip Hop spots in Sin City, and it continues to amaze and impress visitors with its top-tier performers. While tickets can be high for big names, Drai's also offers guests the chance to save a little money by putting themselves on a guest list. While only females benefit from the list, it still saves the group money overall, but men will need to purchase a ticket to get in. Even a-list acts like French Montana and Jeezy won't blow your budget to see, costing between $20 and $30 to get in and enjoy their famous beats. Drai's charges around $8 for beers and prices go up from there, with $20 being the standard for cocktails and premium options. Does a table sound tempting? For $700 you can get a poolside setup where epic views of the Strip await you. As one of the most popular clubs, these prices are almost a steal and well worth it when you're in town, so take advantage of the specials and savings because they will ensure you get the full experience without the hefty tab.
The post The 5 Cheapest Nightclubs in Vegas – Where To Find The Best Deals appeared first on .