NUWU Dispensary
December 7, 2022
NUWU CANNABIS MARKETPLACE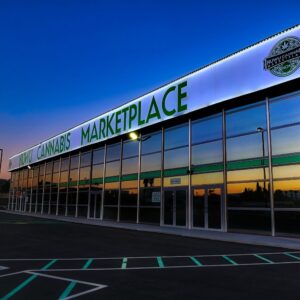 Since cannabis was legalized recreationally in 2017, the dispensary scene in Las Vegas has exploded, with new dispensaries hiding around every corner! With a saturated market to compete with, Nuwu Dispensary has found their own way to stand out; with a cannabis consumption lounge directly inside their building!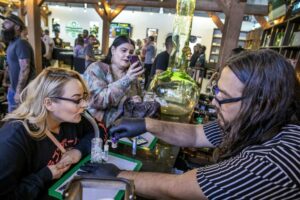 What is a Consumption Lounge?
Glad you asked! In fact, a consumption room is like a bar or lounge, only instead of consuming alcohol, you can consume cannabis products legally! Technically, it is not legal to smoke weed in public, meaning anywhere besides your private residence (which does not include hotel rooms.) Nuwu is the only current business open with a license for a consumption lounge to allow their guests to smoke, eat, or drink cannabis products right inside the dispensary. This is perfect for anyone who is not local and wants to visit AND partake in all the fun dispensaries have to offer! Consumption lounges are predicted to be the next big thing in Las Vegas. As of right now, 40 licenses have been given for legal consumption lounges, but Nuwu is the only one open and operating!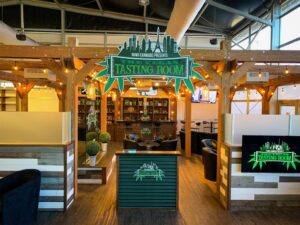 This is the perfect way to taste test any products you have just purchased, or are wanting to purchase! The Nuwu lounge costs $50 per walk-up guest, and comes with a pre-roll and your selection of a canna-infused cocktail! For even more options, they even have a VIP table package where you can enjoy a chill smoke session with your friends! Inside this cannabis tasting room, you can try out dabs and their high quality equipment, pre-rolls, canna-infused beer or cocktails, and on select days, they have local food trucks come out to satisfy your munchies! 
ADDRESS:
1235 PAIUTE CIRCLE LAS VEGAS, NV 89106
HOURS:
Tue – Sat 1:00pm – 11:00pm, Sunday 12:00pm – 8:00pm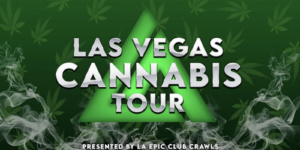 First, one great way to experience the best Las Vegas dispensaries is the Las Vegas Dispensary Tour from LA Epic Club Crawls! With this epic Las Vegas Cannabis Tour, you will meet at a venue on the strip to grab a discounted drink or meal, before hopping on a party bus with VIP cannabis experts, Then go to the best two dispensaries in town! Thirdly, LA Epic's Cannabis tour is the only Dispensary tour in town that takes you to the Nuwu tasting Room for FREE! Moreover, Guests can look around the great selection of products Nuwu offers, and spend time in the tasting room to try out your purchases!
In conclusion, you can purchase products a la carte, which means if you just want to pay for a dab, a canna-cocktail, or a pre-roll inside the tasting room without buying any products, you can! After the tasting room experience, the party bus will take you to Planet 13! You can look around at all they have to offer, including food and coffee shops, merchandise, and marijuana products. Planet 13 is the largest dispensary in the world, offering an immersive experience with state of the art products, shows, food, and staff! 


There is no better way to experience these amazing, one-of-a-kind dispensaries than with LA Epic Club Crawls! Get an epic discount right now with the code FAD3D. Book in now to live the high life with us! 
The post NUWU Dispensary appeared first on Las Vegas.