6 Nightclubs That Offer Free Drinks In Vegas
November 16, 2022
Everyone knows Las Vegas can get pricey – food, shopping, gambling… Not to mention drinks inside any club or pool party. These might even be where you splash the most cash, and it can add up over a few days or more, depending on how long you're in town. Whether you've been saving up for months, or just decided to take a last-minute trip with the crew, dropping $16 – $20 per drink while watching some of the best DJs on the planet can sting, but there are some spots that actually offer free drinks to some of their patrons. While these might not cover your whole evening, they can still get you started and help bring on that magical buzz that Vegas is known for. Wondering how to get free drinks in Vegas? and where you can get free drinks? Check out our compiled list below of venues that provide some offerings, even if it is only to ease you into a heavy bar tab. Hey – free is free, so why not indulge?
Zouk Nightclub is one of the hottest spots on the strip, and it isn't just because they provide visitors with some of the best sounds around. The 26,060 sq ft space is always packed with people who want to hear some of the top DJs in the world, and the venue itself is nothing to scoff at. A mixture of light and sound, this high-tech spot is renowned for its artist lineup and impressive sound system, but it also adds some perks for ladies on the guest list. Between 10:30 pm and 12:30 am, females can get two free drinks when they check in on the list, although management does reserve the right to adjust specials depending on the DJ. The best news is, even for artists like Zedd and Tiesto, who are regulars at the club, the two free drinks are still available – and Vegas knows how to pour them strong, so you'll be buzzed before the last sip.
The Cosmopolitan Hotel is known for a lavish ambiance, and Marquee carries that aesthetic through its sprawling 60,000 sq ft indoor/outdoor venue. While the hotel and club know how to make a tasty cocktail (and charge top dollar for the best of the best), they also know how to look after their patrons. Every Friday and Saturday ladies can get open bar (as in… all you can drink) from 11:30 pm to 12:30 am. That is an entire hour of unlimited drinks flowing in your direction, and 60 minutes allots for a good amount of boozing and schmoozing. Women who are on the guest list simply need to check in, which will get them access to the open bar throughout the venue. Management always reserves the right to adjust specials, and it is important to check your email confirmation from us before arriving to be up to date with changes within the club.
Whether you stop in for dinner at the decadent restaurant, or head straight to the party, TAO ensures all its guests leave happy and satisfied… be it with yummy food or tasty tipples. Their cocktails and drink menu is extensive, but they make sure to help get the festivities started by offering ladies free open bar every Thursday – Saturday from 11:30 pm to 12:30 am. The venue spans 10,000 sq ft, and ensures patrons are greeted with good music, a welcoming atmosphere, and the ultimate party space. While all of this is more than ideal, free drinks for an hour is the cherry on top of a very large (and very impressive) cake. Women must check in under our guest list to be given this offer. Always check your confirmations to make sure offers are still available, as clubs can adjust them depending on performers, events, etc.
The vibes at LAVO Party Brunch are immaculate, and the minute you wander inside you'll be whisked away to a wonderland of debauchery and fun. While there is much to see and do during the all-day event, the venue makes sure to give guests as much opportunity to get toes wet before everything really kicks off. From noon until 1:00 pm the terrace hosts a sponsored pop up bar, which serves a variety of options depending on the sponsor. Once the doors open officially, ladies get open bar from 1:00 pm to 2:00 pm. It can get busy, so it might be worth staking out a spot at the main bar to grab some sips, because there will be plenty of time for exploring once the free drinks come to an end. LAVO offers 20,000 sq ft of excitement and entertainment, so make sure to get on our guest list, and get there early to take advantage of the specials.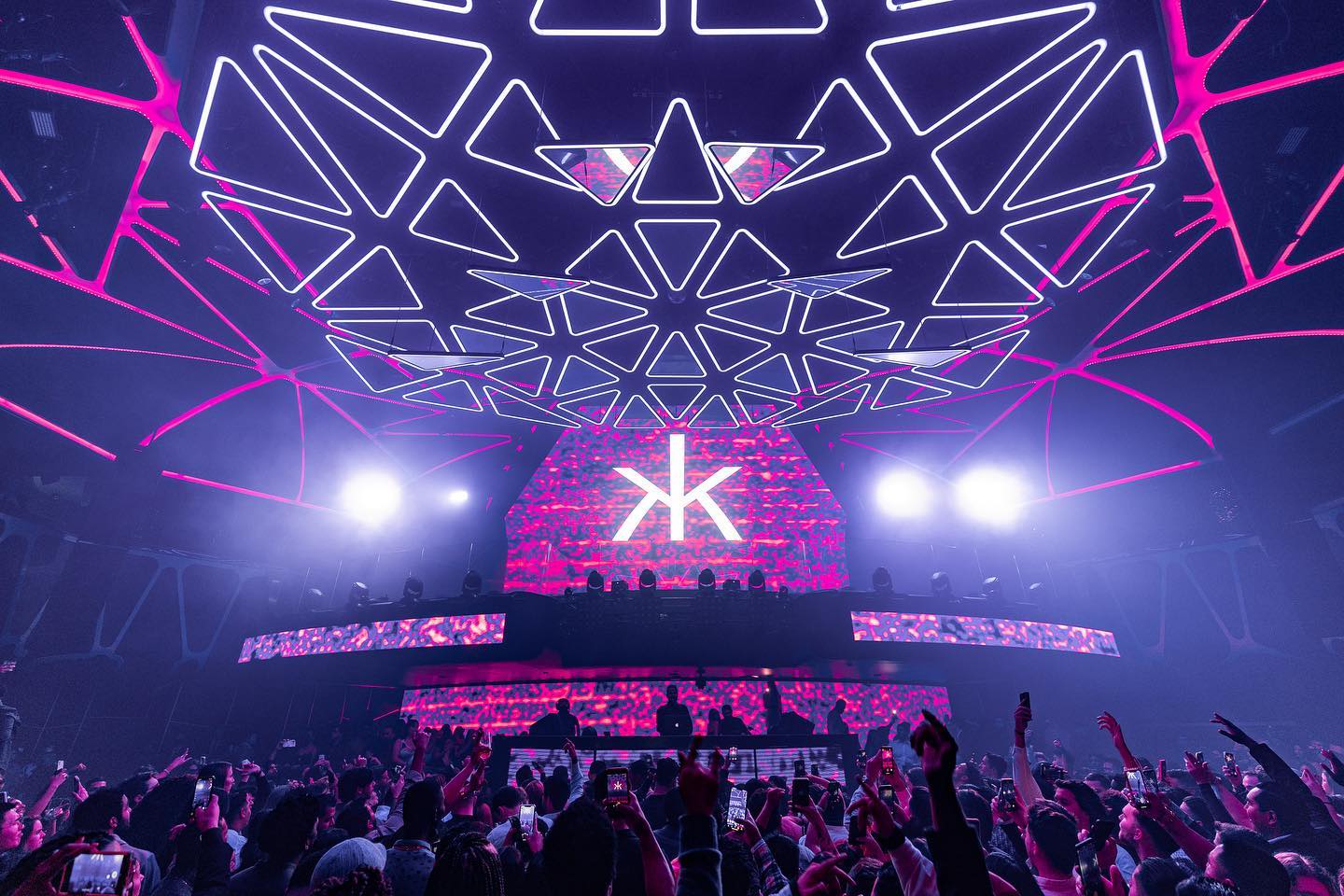 Hakkasan knows how to throw a good event, and they continue to impress patrons week after week. It could be in large part to their massive venue, which stretches across multiple levels and 80,000 sq ft, or it could be the world renowned DJs they host on the regular. It might even be that ladies get free open bar between 11:30 pm and 12:30 am Thursdays – Saturdays, allowing everyone to save some singles for the afters. Like with other venues that offer these deals, ladies must check in on our guest list. It is worth it to check our email updates to ensure all offers are still viable, and to avoid hang ups at the entrance. Free drinks in Las Vegas are worth their weight in gold, so don't miss out on the chance to party on the house at one of the top spots in the city.
If you're looking for the quintessential Vegas experience, look no further than Jewel Nightclub. Sure, the venue itself is unbelievable, and the technology is so immersive there is no way you won't get lost in the sights and sounds, but the fact that they also offer ladies an open bar from Midnight until 1 am (prime time party hours, by the way), is just the "wow factor" people search for when picking their party destination. Fridays and Saturdays are when this special is available, and attendees must check in under our guest list to receive their drink offer. With 24,000 sq ft of music, LED displays, and wild party vibes, this is one festivity you don't want to miss.
Just remember… tips go a long way, and might even ensure the bartenders come back to you more often, so while freebies are a win, don't skimp on the gratuity.
The post 6 Nightclubs That Offer Free Drinks In Vegas appeared first on .